"Kundalini Yoga is simply the uncoiling of yourself to find your potential and your vitality and to reach your virtues. There is nothing outside, everything is you. You are the storehouse of your totality."
Location: We will be staying in a beautiful setting right outside of Reykjavík – in Skálholt
Price: 175.000 – Early bird price: 169.000 ikr if confirmed before march 1st. Confirmation fee: 45.000 Ikr.
FOR MORE INFORMATION: andartak@andartak.is
"Stress is not from any outside quarter. Stress is when an outside pressure is not matched and overcome by your inside intelligence." Yogi Bhajan 4/10/80
Stress challenges our capacity to respond and adapt. Vitality is the foundation for neutrality, resiliency and an effective response to stress.
Build your nervous system, your glandular system and your pranic body to hone your caliber and guide yourself and others through Iife's changes and challenges!
Cultivate the core skill for this coming age: the ability to recognize stress in ourselves and others, develop the tools to transform and balance it with conscious relaxation.
Kundalini Yoga reestablishes the integrity and vitality of our emotional, mental, and physical bodies and closes the gap between our self and what we experience.
This course is a chance to look closely at how we react to, cope with and master our vitality.
A signature of vitality is the ability to act consciously conscious and authentic while being emotionally flexible and available to the entire universe of emotions. It is only with this capacity that we can universally engender compassion, kindness, and courage. Thoughts, feelings, and information flow together to make us alert—to be and express who we are in the moment. This is why a realized yogi is full of vitality

Without vitality, life is but a shadow of existence. We must cultvate the core skill in this coming age and recognize stress in our self and others and being able to transform it.
Stress affects our communication; it provokes the shadow aspects and hidden agendas of our personality. It pressures our mind and the capacity of the three minds to function smoothly. It strongly affects our capacity for relationships that are true and authentic. Stress comes from many sources.
Explore Your Vitality and Recognize Consciousness as the Core of Vitality
Identify Your Stress Personality
Heal Depression and Emotional Fatigue
Relieve, Relax, Recharge through Meditation and Kriyas
Realize the Victory of the Spiritual Warrior
We will build our core vitality, mental endurance and spiritual clarity.
We will explore the process, effects and downsides of too much stress.
We will identify strategies to cope with stress and mitigate its ill effects.
What is a positive and negative emotion?
What is the difference between an emotion and a commotion?
Can we call on positive emotions to handle stress better?
What characteristics and attitudes protect us from the effects of stress?
How does our personality and subconscious react in dysfunctional ways when we are stressed?
The teachers: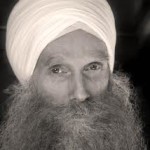 Shiv Charan Singh is an unassuming and authentic teacher as well as an outstanding spiritual counselor who has worked internationally with groups and individuals for over 30 years. He is the founding director of the International Karam Kriya School, which trains students and teachers in Kundalini Yoga, Spiritual Consultancy and Applied Numerology all over the world.
Shiv Charan Singh is the author of several books and articles on different aspects of spiritual life, including 'Let the Numbers Guide You'. Meeting and being with him is an invitation and opportunity to look at life from a new perspective and to experience something fresh, surprising and magical.
As a young person, Shiv Charan Singh had a number of nearly fatal incidents and these near death experiences gave him an intimate knowledge of living and dying that we all seek to understand. In his teachings, he is neither self-seeking nor political. He is entertaining and both charismatic and humble in the way he speaks. And, above all, his warmth and compassion reach out and welcome all, regardless of age and background.
He was acknowledged with the award of best Teacher of the Year (2014), by the Kundalini Research Institute.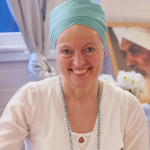 Bibi Nanaki Kaur: Freelance conference interpreter and KRI Lead Trainer. The teachings of Kundalini Yoga touched her heart in 1997 and have changed her life since then. She did teacher training levels 1 and 2 with both 3HO and Karta Singh´s Amrit Nam Sarovar school and started to teach Kundalini Yoga in 2000. Furthermore, she studied the martial art Gatka and Gong playing with Nanak Dev Singh and Karam Kriya numerology with Shiv Charan Singh. She was blessed to meet Yogi Bhajan at different occasions in both Europe and New Mexico.
Bibi Nanaki understands it as her mission to bring as many people as possible in touch with the precious teachings of Kundalini Yoga. Based on her personal experience she is absolutely convinced that they are a unique and powerful tool of Self Awareness and Self Healing. At the moment, she is training in Yoga Therapy with Shanti Shanti Kaur to deepen her understanding of it.
Bibi Nanaki loves to share the teachings with people from all over the world. She has been training teachers since 2003 in Germany, Spain, Italy, Great Britain, Finland, Norway, Iceland, Estonia, Russia and Ucraine. Following the mission of Yogi Bhajan who came to the West to create teachers so that they can be lighthouses standing tall and shining their light in the Aquarian Age. Sat Nam.
Further information and registration:



Registration: – follow this link here
Further information: andartak@andartak.is